Cinekit 3
$2,319.00
What is Included
| | |
| --- | --- |
| Tripod: | SC-ENG / CF100 |
| Head: | SC-V15 / 100RP |
| Ground Spreader: | SC-FS100 |
| Off-ground Spreader: | SC-MS100 |
| Pan Bar: | SC-PB15 |
| Rubber Feet: | SC-RF100 |
| Soft Carrying Case |   |
Specifications
| | |
| --- | --- |
| Max Payload: | 20.8kg (45.8lb) |
| Height Range: | 75-172mm |
| Bowl Diameter: | 100mm |
| Transport Length: | 90cm |
---
Description

Secced Cinekits feature the same items as their Reach Plus counterpart, but with additional accessories to complete your set-up!
All Cinekits include an off-ground spreader and rubber feet. 
The Cinekit 3 is a the carbon fiber version of the Secced Reach Plus 3 kit. It includes a fluid head with ø100 mm integrated ball and a carbon fiber video tripod leg with floor-spreader. It is recommended for portable broadcast camcorders in ENG configuration, up to a load of 15.4 kg / 34 lb.
The fluid head of the Reach 3 Plus tripod set features a balance adjustment lever device designed to duplicate the available counterbalance steps. The ENG/CF100D tripod included in the kit is a 2-stage carbon fiber tripod, traditional build (top and middle sections are twin-tubed) with standard ø100 mm bowl. It is lightweight and strong with excellent torsional rigidity.
The high torsional rigidity is the most important characteristic of professional video tripods. It determines how resistant the video tripod is to twisting mechanical influences during pan. The adequate torsional rigidity is essential at recording to achieve smooth camera movements.
Counterbalance system
The Secced V15/100RP fluid head belonging to the system has a 8 grade (1-8 steps) counterbalance system, its typical payload capacity ranges between 0-15.4 kg / 0-34 lb.
Damping
The redesigned 8-grade (0+7 steps) drag system of the Reach Plus 3 fluid head makes professional, high-quality camera movements possible. The applied friction free technology is resistant to extreme temperatures.
The Reach Plus 3 CF system is recommended for most DVCAM, DVCPRO, DVCPRO 50, HDV, XDCAM, XDCAM HD, DVCPROHD, AVC-Intra portable broadcast and system camcorders in ENG configuration.
Tripod adapter is recommended for the Reach Plus 3 system (optional).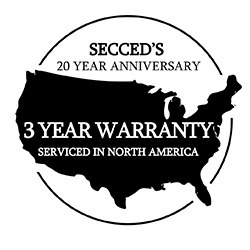 3 Year Warranty - Serviced in North America
Shipping price is subject to change*
---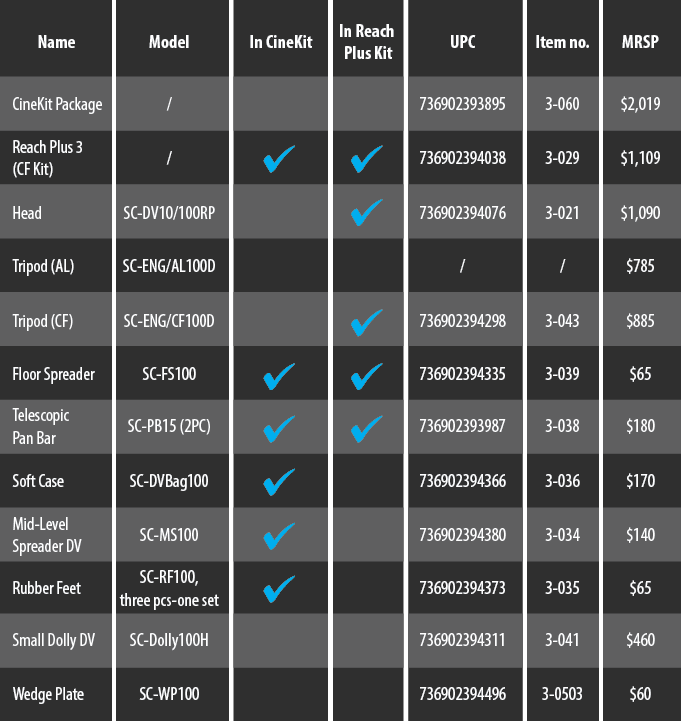 Related Products